It's fair to say Apple CarPlay has revolutionized in-car infotainment. Not because it's intrinsically better than the auto manufacturers' own offerings – many in-house systems, including BMW's iDrive, are well designed and easy to use – but because of the sheer range of apps available.
Best of all, those apps are available whichever vehicle you drive (as long as it has CarPlay, of course); BMW CarPlay boasts the same content as other vehicles. Compare that to using the native systems, where moving back and forth between a BMW and a Ford also means moving between iDrive and SYNC, each with its own set of apps.
Now that its latest vehicles also include full-screen CarPlay, BMW is making it easier than ever to embrace Apple's infotainment system (and for vehicles that don't have it from the factory, there are some BMW Apple CarPlay upgrade options we'll tell you about at the end).
But with so many apps out there, you might be wondering which are the absolute best Apple CarPlay apps? Let's find out!
HOW TO ADD APPS TO CARPLAY?
Before we get into that, though, it's worth taking a look at how you go about getting all that into your BMW. Apple CarPlay's greatest strength is probably just how easy it is to get all your favorite apps up and running.

The important thing is that CarPlay is basically just piggybacking on your iPhone and its installed apps. And why not? They're the apps you use every day, and there's no point trying to install them all over again just for Apple CarPlay.

In a nutshell, if you've got an app installed on your iPhone, and that app has a CarPlay version, just connect your iPhone to your CarPlay-enabled vehicle. You'll find the app on your in-car home screen, ready to use.
WHAT APPS WORK WITH CARPLAY?
The only issue is that some iOS apps don't have CarPlay versions. Example: Crossy Road. Shocking, I know.
There are no hard and fast rules about which do, but you can start off by asking yourself three questions about the app:
Is it popular?
Would anybody think it's useful in a car?
Could you use it safely while driving?
If you didn't answer 'yes' to all three (sorry Netflix, fallen at the last hurdle…), then it's probably not on CarPlay. But if your app scores 3 out of 3, then congratulations, it's Google Maps and I'm happy to confirm it does work with BMW CarPlay!
BMW Apple CarPlay navigation apps
On the subject of Google Maps, when you first get BMW Apple CarPlay, navigation is one of the first things you're going to want to look into. In fact, it's probably the only area where CarPlay is undeniably better than anything any automaker can provide themselves. I mean, CarPlay is probably better in other areas, too, but it's undeniably better for navigation.
Google Maps on Apple Carplay
To get an idea of the difference, try finding your destination in your BMW's native navigation system, then again on Google Maps. If only one of those two went well, you can bet your bottom dollar it wasn't the BMW nav ;) With Google's extra map data, you can find even small businesses by name, and on the route, you're likely to have more up-to-the-minute information about road closures and other disruptions.
Sure, BMW's navigation maps include points of interest and real-time traffic information, but not to the same extent, or as accurately, as Google Maps.
Waze on Apple Carplay  
Many of Waze's standout features have been absorbed into Google Maps – traffic information, turn-by-turn navigation and more. Whichever app you use, you're going to get pretty much the same data sourced from the users of both.
But Waze's interface is still 'driver-first' while Google Maps caters just as well to navigation on foot or by transit. For many people, that alone is enough reason to go for Waze while driving.
TomTom GO on Apple Carplay
Less popular among CarPlay navigation apps is TomTom GO, a self-declared premium navigation app. 'Premium', of course, stands for 'not free,' so you're going to need to pay $5 a month for the privilege of using it.
Is it worth it? Well, maybe. TomTom's maps are packed with detail, which can make it much easier to get your bearings in complicated intersections. It also has a better understanding of highways, to make sure you're in the right lane heading into your exit.
Communication
Messaging and communication is another area where CarPlay excels, thanks to its built-in Siri support. When using BMW Apple CarPlay, text messages can be sent and received safely without taking your eyes off the road.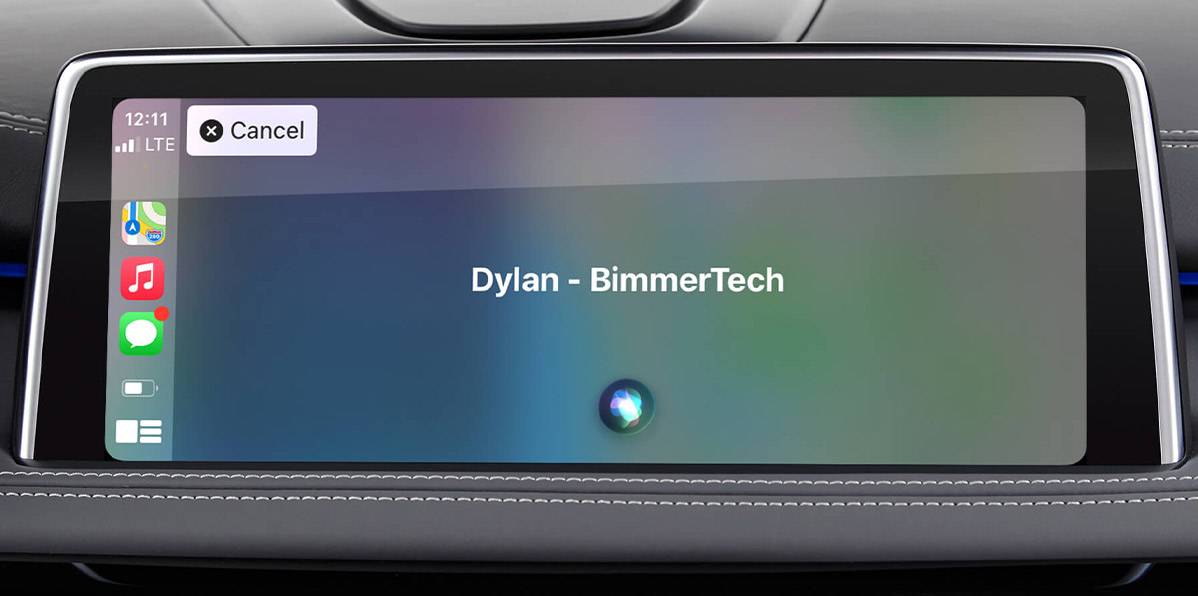 Of course, not everybody is going to want their messages showing up on their BMW dashboard display. If that sounds like you, and you're wondering how to turn off messages on Apple CarPlay, you can check the Notifications section of the Setting app on your iPhone. Apple lets you control which apps can show notifications when using CarPlay, so you can switch off notifications on CarPlay but keep them on your iPhone. Neat.
Messages on Apple Carplay
Most iPhone users are going to be familiar with the standard Messages app. Well, it's no surprise you'll also find it on BMW Apple CarPlay, and as the default messaging option, it's well integrated with the rest of the system.
Siri can read incoming messages out to you, and you can reply with your voice, too. In BMWs, you can even call up Siri using the voice control button on the steering wheel, so it couldn't be easier to stay in touch with people while driving.
WhatsApp on Apple Carplay
The convenience of Messages is also available for other messaging services, including the Apple CarPlay WhatsApp application. Like with Messages, CarPlay will show incoming message notifications on your iDrive screen, and Siri will be more than happy to read them out to you. If you don't like Siri's robotic tones, you can always send and receive voice messages, too.
Some users find Siri doesn't do quite as good a job with WhatsApp as it does with Messages, but if that is the case, it's not something that's going to make a big difference. You're free to choose your favorite messaging app, and between CarPlay and Siri, you know you'll be able to use it easily when driving.
ZOOM Cloud Meetings on Apple Carplay
Are you one of those high-flying executive types, with round-the-clock conference calls with corporate HQ? Well, with BMW Apple CarPlay, being stuck in traffic on the way to or from the office is no reason not to jump on a quick Zoom call.
Understandably, in-car Zoom doesn't offer everything you're used to with Zoom on your computer. No custom backgrounds here. But you can easily accept voice meetings, for when business just can't wait.
Parking and EV charging
As well as navigating to your destination, dedicated apps make it easy to find somewhere to park or charge up your EV BMW's battery.
ChargePoint
If you already charge your EV with ChargePoint, you've probably got the ChargePoint app on your iPhone. And if you've got it on your iPhone, you've got it on BMW Apple CarPlay, too.
Like the mobile app, ChargePoint for CarPlay can show a map of nearby charging stations, so you'll always know where to head to charge up.
PlugShare
To take your EV charging point game to the next level, though, take a look at PlugShare. Their community-sourced map includes hundreds of thousands of stations around the world, along with pricing and other information.
Best of all, it includes stations from different networks, including ChargePoint, Tesla and (in Europe) Ionity.
SpotHero
All good drives come to an end, and when yours does, SpotHero is there to help you find somewhere to park up – on your iPhone and your BMW dashboard display with Apple CarPlay.
Music and podcasts
BMW Apple CarPlay music apps are another popular choice. Who doesn't love turning the music up on the open road? And if you don't… well, tough; CarPlay might autoplay your music when you connect your iPhone to CarPlay anyway. (If you're trying to figure out how to stop Apple CarPlay from automatically playing music, just search for CarPlay in your iPhone settings and disable 'Allow CarPlay while locked.')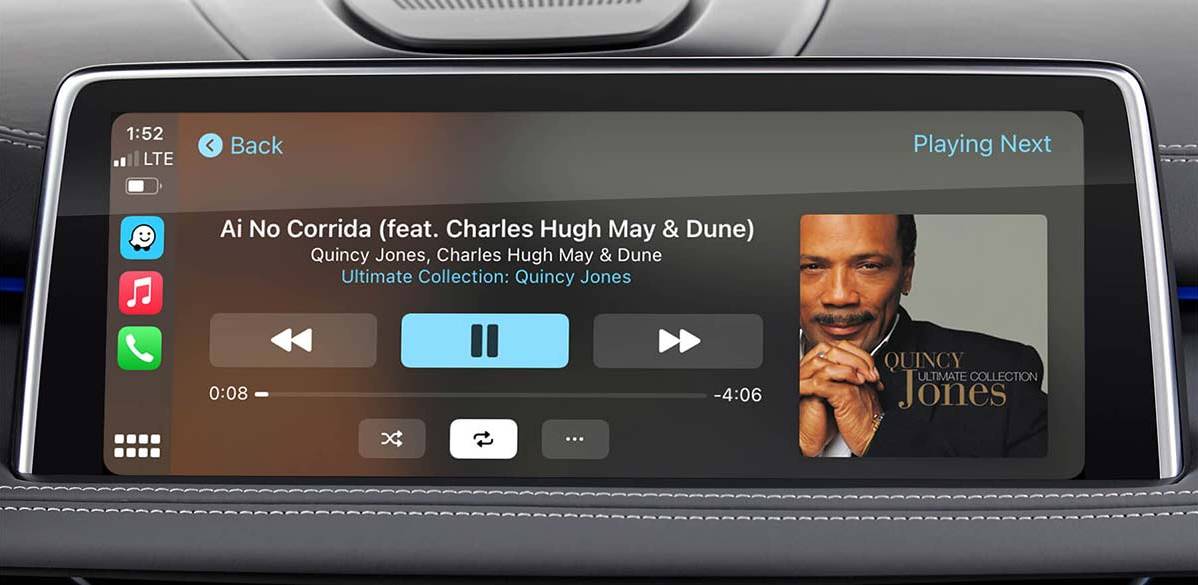 If you're not in the mood for music, there are plenty of podcast and audiobook apps to choose from, too.
Spotify on Apple Carplay
Spotify doesn't really need any introduction, and it shouldn't be any surprise that it's also available through CarPlay.
It does everything you'd expect. Play a song, play the next song. It's Spotify, just in your car.
Tidal on Apple Carplay
Tidal offers something Spotify still doesn't: lossless audio. Spotify HiFi is on the way, but for now, fans of high-quality streaming audio have to turn to Tidal to get their fix.
On CarPlay, both Spotify and Tidal offer pretty similar features, so which you choose is going to come down to which you prefer using outside of your BMW.
Learn more about streaming high-quality music in your BMW.
YouTube Music on Apple Carplay
BMW CarPlay doesn't support YouTube, because watching videos while driving is frowned upon. But YouTube Music? Go ahead!
The user base lags behind the big players in music streaming, but if you're one of its subscribers, you'll have no problem with the YouTube Music CarPlay app.
Stitcher
When you want to take a break from music, Stitcher's got your back. As one of the longest established podcast services, you're going to find all your favorites.
Stitcher was also one of the first CarPlay apps, and all that experience has gone into producing a slick, easy-to-use CarPlay app.
iHeartRadio
Another radio and podcasting stalwart is iHeartRadio, and like so many other major audio services, you can use it through BMW Apple CarPlay.
Pandora
Emphasizing the point that the greatest strength of the system is how many CarPlay apps there are, anybody who doesn't like iHeartRadio or Stitcher (or any of the other competing services) can use Pandora instead.
Like with the music apps, you probably won't notice a huge difference between the CarPlay apps for each service – they all do pretty much the same thing.
Food
No list of the best CarPlay apps would be complete without taking a look at the most important thing when you're on the road: donuts.
Dunkin'
The Dunkin' app lets you get your donut and coffee fix wherever you are. I know what you're thinking, it's probably just a map of DD locations. Well, that's where you'd be wrong.
In a miraculous display of engineering, the Dunkin' CarPlay app actually lets you place your order from your BMW, then head over to pick it up. It's like the next level of drive-thru, and probably the single most compelling reason to get CarPlay for BMW.
HOW MUCH DATA DOES APPLE MAPS USE?
If you like the idea of using all those apps, but have a voice in the back of your head saying "hey, what about my data plan?" ...well, there's no getting around it. Does Apple CarPlay use data? Yes. How much data does Apple Maps use, or another app? It depends.
To access content in your apps, CarPlay uses your phone's data connection. So streaming music uses data, loading maps uses data. Siri uses a little bit of data, too, so the more messages you have read out, the more data you'll burn through.
If you're worried about it, there are some things you can do to keep data usage down. Many apps let you download content to your phone, which you can do before you leave home. Waze, for example, lets you download local maps for your trip, so you won't have to ask yourself how much data does Waze use. Music apps also offer downloading, great for saving data and keeping your music playing in areas with patchy mobile coverage.
Importantly, however you use CarPlay, you probably won't be using any more data than you would be using the same app straight from your iPhone.
HOW TO USE APPLE CARPLAY IN BMWS?
BMW led the way in offering completely wireless Apple CarPlay, so using all the above CarPlay apps in your BMW couldn't be easier.
In your iPhone settings, find the CarPlay section to pair your iPhone and BMW. With that done, you'll be able to use your iPhone's Bluetooth to connect to your BMW's iDrive system any time you go out for a drive. Just use the iDrive controller to switch from the standard iDrive menu to CarPlay.
Once CarPlay is activated, you can also use the voice control buttons on the steering wheel to summon Siri, and navigate your apps with your voice.
HOW TO GET APPLE CARPLAY ON A BMW?
But now it's time for some bad news, and some good news. Compared to some other auto manufacturers, CarPlay isn't as omnipresent as it could be. While some brands had CarPlay as standard, BMW was still locking it away as a premium option, or even trying to charge a subscription fee for it.
The good news is that even if your BMW doesn't have CarPlay from the factory, there are plenty of BMW Apple CarPlay upgrade options to choose from.
In newer vehicles, your iDrive might already have everything required to activate CarPlay. A skilled technician can activate Apple CarPlay for BMW for you in a matter of minutes.
If your BMW isn't already equipped with the required hardware, RoadTop's CarPlay retrofit for BMW is the market-leading solution. Offering great integration with your iDrive system, wireless connectivity options as standard and built-in Android Auto and Apple CarPlay, it's the easiest way to transform your BMW's infotainment game.
Best of all, it's compatible with three generations of BMW, so even drivers of older vehicles are able to enjoy the best CarPlay apps.